Dinner in a Dish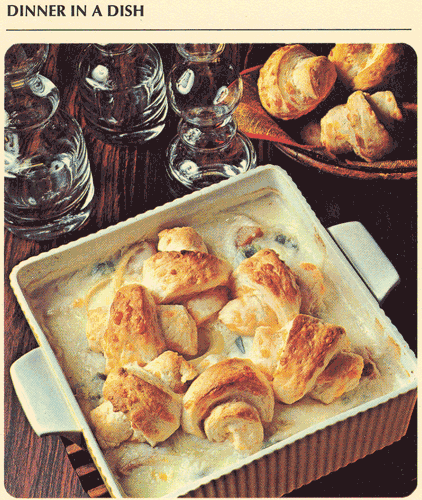 In case you can't get enough of the Cheese Crescents in the main course there are more Cheese Crescents in the basket. I think the Betty Crocker staff had a militant vegetarian in their midst. Some of the things being suggested for meat are just not right.
The recipe:
1-1/2 cups cut-up celery
4 hard-cooked eggs, halved
2 cups cut-up cooked meat
1/4 cup butter or margarine
1/4 Gold Medal flour
1-1/2 teaspoons salt
1/4 teaspoon pepper
2 cups milk
1 small onion thinly sliced
1/4/ cup chopped green pepper
Cheese Crescents (I'm not including the recipe for that)
Heat oven to 425 degrees. Arrange celery, eggs and meat in ungreased baking pan, 8x8x2 inches. Melt butter over low heat. Blend in flour, salt and pepper. Cook over low heat, stirring until mixture is smooth and bubbly. Remove from heat. Stir in milk. Heat to boiling, stirring constantly. Boil and stir 1 minute. Stir in onion and green pepper.
Pour over meat; place in oven. Prepare Cheese Crescents; arrange 6 on hot mixture. Bake casserole uncovered 25 to 30 minutes, remaining crescents on ungreased baking sheet 12 to 15 minutes. 6 servings.
Screw it, call Domino's Pizza