Bologna Biscuits with Vegetables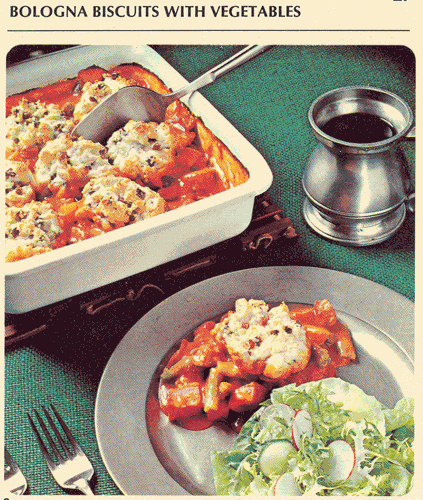 Not only does the casserole contain bologna but the biscuits which are on top also contain bologna. This recipe calls for 3/4 of a pound of bologna, 1/2 pound in the casserole and a 1/4 in the biscuit dough. I don't know where to purchase that much bologna. The grocery store has a deli department where they keep big rolls of bologna but I don't know if one could purchase one of those. I always thought they were for display only.
This recipe was tested in the kitchen of San Quentin prison. Note the metal plate.
Protestant children with budget minded parents wished they were Catholic so that they could receive a 40 day reprieve from bologna based dinners.