Even More Furniture

Sculptured wood-look panels, hickory veneer tops create a Spanish aura. Back to insulting the Spanish.

Hand-rubbed solid maple reflects the warmth of early America. Only America is worthy of solid, real wood from actual trees. Table 8 is the neat freak's nightmare. You can't vacuum under that without changing attachments or moving the table.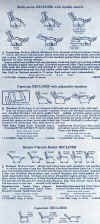 The recliners were not too offensive but these illustrations sure are funny and subject to multiple interpretation.