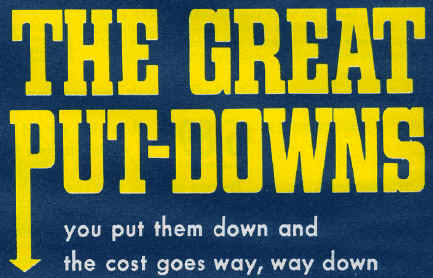 The Great Put-Downs
Sometimes I don't have to try to come up with something funny. Sears did it for me. I guess Sears did not know that "put downs" also indicate insults. These floor coverings do deserve some insults. This section was 16 pages and all 16 pages were quite laughable. So I am going to inflict all 16 pages upon you, but not at once.

The Harvest Goldness of this space is just too overwhelming.

Marvess Olefin played full back for the 1972 Miami Dolphins. Actually Marvess Olefin refers to the type of fiber in the floor covering but seeing that name the image of a 1972 Topps Football Card popped into my head. I can see Marvess: dark brown skin, afro, beard. Looks sort of like Barry White (rest in peace). Had an outstanding collegiate career at the University of Nebraska. Drafted in the first round by the Dolphins in 1968. Traded to the Dallas Cowboys. Retired in 1978. Now owns a chain of barbeque restaurants in the Dallas/ Ft. Worth area.

As a child, I vomited on carpet like this. This color would be described at "puke" green. I never vomited anything green. Must be a law of physics: Vomit will be a color that clashes with the color of the surface being vomited upon.

Satan's floor covering (the red carpet). It's a nice annoying texture that is impossible to roll Hot Wheels or any other wheeled toy on. The toy would get stuck in the black grooves.
Say goodbye to mopping, waxing and scrubbing and hello to vacuuming.

Is it safe to mix Pooh with Seuss? Why did the Sears catalog designers choose the most obnoxious color to showcase in a room?

I'm assuming that this is a room for a child. No adult would have a bedroom that pink and frilly. Another example of Sears picking the most offensive color to feature. There are three perfectly lovely shades of blue.

The picture on the left is interesting. Covering an ugly wood floor with an ugly shag carpet. The picture to the right, Sears deviated from the usual and did not feature the ugliest color.
I went to an antique store in Calvert, Texas (a small town whose sole industries are agriculture and antique stores) that had used carpet tiles to cover their floor. But none of the tiles were the same color or pattern. The place also had that slightly musty antique store smell. I think you can get that in a spray can. The proprietor was a mean lady who was trying to sell comic books that were in poor condition for mint condition prices. Those were the prices in the price guide and she was not going to negotiate. I did not feel compelled to continue the conversation nor educate her. I sensed that it would have been a fruitless endeavor.

A nice pattern to hide the dirt. More Marvess Olefin.

PINK!!!

Gee whiz Tommy, you sure know how to show a girl a good time. You are the grooviest boy I've ever dated.

Sears proves that colors do make sounds.

Ready stick, cancer causing asbestos tile. Everything in the house was destroyed by the fire except for the ugly tile on the floor.

This vinyl is almost hypnotic.


Floor covering so ugly that Sears did not want to bring live models in direct contact with the vinyl. They are the never, never, never wax floors because once this vinyl is laid the room becomes the never, never, never enter room.

Sears saved the ugliest for the last. Check out the black and white print, second column, second row.