Coats - lovely coats

The Ultra Fakes using real lamb's fur. The term "piles" is used in the house wares section to describe carpet.

Grooved and glamorous is not a much better description.
Copy: (4) Notch-collared coat fitted through the shoulders, flared through the skirt. Deep brown polyester-and-rayon backed modacrylic pile by Malden looks like beautiful mink.
(5) Flare-shaped coat has convertible mushroom collar. Rich polyester-backed modacrylic pile by Malden looks like otter.
Modacrylic is acrylic's hip, swinging cousin. There is no indication as to who this Malden person is and why he or she is included in the copy. Karl Malden (old actor) springs to mind. Maybe he had a second career, hanging out with the modacrylic and groovin' and glamorizing piles.
Update from an attentive reader:
This is the copy used in the 2003 Sears Online Catalog:

Faux fur never looked better. Fabulous fakes have all the of luxury of the real thing. Modacrylic faux fur backed in polyester; silk/nylon lining. Dry clean. Imported. Glamorous topper has a sophisticated look. Shawl collar, slash pockets. About 40" long.
They are recycling catalog copy!

Princess Leia's sister models a pea-jacket in navy blue. The hairstyle on model 3 reminds me of the gremlin from the old Warner Brothers cartoon.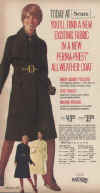 It is just friggin' polyester!